Today I delivered a talk at HSE Open Day 2015 in Moscow Gorky Park (pictured). Here is Part I of what is said:
Moscow is an innovation-driven city, according to the Innovation Cities Index 2014 (which ranked Moscow 63 out of 445). Or as The Economist recently put it – partly jealously, partly admiring – "Russia's great strength throughout the centuries has been that its people can seemingly adapt to any conditions".
No doubt, innovation is a top priority in Moscow. There are seven technology parks, young researchers are awarded and the city intends to further develop its innovation and research structure.
But this is private sector innovation. Infrastructure investments result in innovation in the private sector. An example is yandex.taxi. Using geospatial information from the Open data portal of Moscow the quality and quantity of taxi services has improved significantly throughout the last four years. Good. What about innovation in the Public Sector and Public Administration?
Innovative behavior means "to seek out new and better ways of doing things" (Fernandez and Moldogaziev 2013), and some public authorities try to improve citizen's well-being by doing so. Aforementioned Yandex.taxi application builds on open Data. Moscow's Open data portal (data.mos.ru) and its bigger sister, the Our City website (gorod.mos.ru) are public sector innovations; e-government innovations.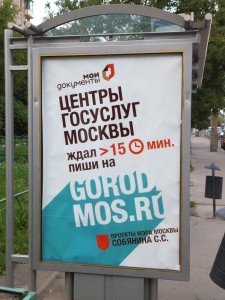 Both sites have a potential to improve the public interest. Making administrative data publicly available creates transparency. It is a tool to hold people to account for their actions. Open data portal is not very popular (10,000 visits per day) so far compared to Our City Website (2,000,000). Nonetheless, it is a contribution to hold bureaucrats to account for their actions and the resulting outcomes. Even when the number of clicks is low, it sets incentives to achieve at least a baseline level of performance. Our city is the place where people complain, but also receive public services. It is a source to identify self-reported problems, and to fix them. People complain there, and monitor the implementation of requests. Posted photos show results from actions that were taken to address a reported problem (a broken skid, a pothole, a pile of rubish). A new feature is a reporting tool for excessive pricing in pharmacy. Such innovation is driven by latent demand. I experienced such excessive pricing myself. And seemingly other people did as well. The new innovative reporting tool responds to such latent demand. It makes life better a little bit. I feel better when I have the feeling that somebody takes note of daily-life problems. By doing so Our city increase my personal well-being.
Put generally, an innovation is an idea, a program or a policy, which is new to the organization adopting it, regardless of the number of prior adoptions in surrounding peer units. This is the seminal definition of Walker 1969 which has been replicated since then.
E-Government and e-services are typical examples of innovative behavior in public administration. Several municipalities and government agencies in the US have implemented such e-services. Submitting your tax declaration or booking an appointment online is getting common also in Germany. One-stop agencies (products and service innovation, Bhatti 2004) are another innovative practice. Municipalities in Denmark and England have introduced such citizen's centers. Tewkesbury Borough Council established a one-stop agency, or customer service center (in Dec 2014). North Somerset has established a similar multi-agency citizens portal. East Riding of Yorkshire and Scarborough Borough Council has a 'virtual customer service centre' since 2012. The London Borough of Croydon has a customer service center reported in Jan 2015 ('Access Croydon'). Customer service centers normally work like this: On arrival you will be met and shown where to go. You are able to book appointments in advance, online. All of this will reduce waiting time. The objective is twofold; to tailor public service delivery to citizen's need; and realize efficiency savings. In England such innovative behavior is clearly driven by the deepest spending cuts in recent history. The Spending Review 2010 asks for severe budget cuts, particular in local council's budgets. At the same time, central government restricts councils' autonomy to raise council taxes. For local councils that means "to seek out new and better ways of doing things".
Another interesting example of innovative behavior from England is the YouChoose budget tool, a simulator to engage citizens in budget cuts; which was first applied by London Borough of Redbridge. It's a web based simulation: Regular people, like you and I, adjust spending levels of a basket of functions, see the consequences for service delivery (example from demo: reduced frequency of street cleaning), but budget need to be balanced and council tax cannot be raised by more than 5\%- these are the rules of the simulation. If so you can submit your propositions to the local council.
However, budget cuts in England also drive innovative search activities, which have unintended side effects for local residents. This is called pay-as-you-go government. Public administrations (and elected governments) are charging higher fees for public services to fill budget gaps. By doing so they avoid raising taxes, which is associated with the political risks of losing public support and votes. In principal to charge people for a service avoids overconsumption and prevents free-riding. But in some cases the charge of a service now exceeds its costs; the charge becomes a tax (The Economist, Pay-as-you-go government, August 29th-September4th 2015). Public Administrators became too innovative.