If there was a buzzword these days in Budapest – apart from 'innovation' – it was co-production. Co-production is everywhere – it is day one of the IRSPM conference on Public Service Innovation and the Delivery of Effective Services, which took part 15-16 October at the National University of Public Service (pictured, the afternoon before the conference actually started).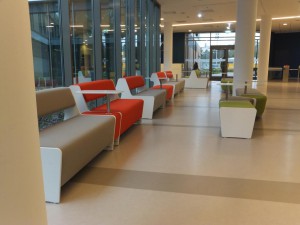 But innovation first: In the Introductory Plenary Session Stephen Osborne from the University of Edinburgh, and co-chair of the event started from a very broad definition that innovation is the creation of knowledge. An important feature in this knowledge-creation process is creativity, that is, divergent thinking and the ability to create multiple solutions to a similar problem.
Innovation is a buzzword, as is co-production. The moniker innovation is commonly used as a proxy for "change for the good". Stephen's – somewhat rhetoric, somewhat serious question – was 'But is it really better to be innovative?' He pointed out that previous research had shown that innovation involves risks – (and I add) which comes as no surprise since riskless choice is an outdated concept from the 1960ies – and about 3 out of 4 so-called innovations fail. So innovation, in the very broad terms of Stephen, is seemingly not a cost-efficient way to reform and change public service delivery.
Turning to the issue of co-production Stephen argued that a service perspective is needed to understand public service delivery and to design and change it properly. Because public service delivery is not just production of goods, and e.g. tax management, parks, and health care are not just manufactured goods innovation and co-production must not just be about reducing costs in times of austerity.
At this point I have to add Stephens's definition of the term "Co-production": co-production is "voluntary or involuntary involvement of a service user in any of the design, management, delivery and/or evaluation of public services in order to add value". From that follows that co-production is part of the nature of public service delivery, because production and consumption occur at the same time. Taking on Stephen's perspective co-production is just everywhere. He introduced 4 Quadrants of co-production: pure co-production, co-design, and co-construction (I missed the fourth one, but I can be found in two recent articles, one in the 2013 volume of the American Public Administration Review, and another one in 2015 in the British Journal of Public Management).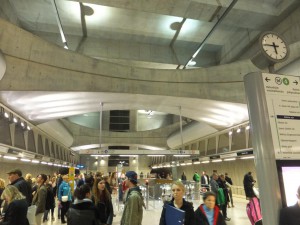 Is this alreay co-production? Customers at Kalvin tér metro station in Budapest, Oct 15.
Comments from the audience pointed on two major issues: Stephen delivered a series of good and also entertaining arguments why co-production is a relevant issue. But are there any examples of successful co-production? Stephen gave a negative example of co-production effects from mental health care in Scotland. Children had a say there in the co-design of new residential homes. And what they wanted was to have the door handle at the bottom of the door – so they could leave themselves. But this is not what social workers really want.
The second issue is a lack of quantitative measures to co-production intensity and its potential impacts on organizational performance. Stephen argued that qualitative research is the only approach because service delivery and thus co-production is about processes. But in fact there is work going on to address this issue: The next day Marco Meneguzzo from London Open University presented a set of potential indicators to capture the extent of co-production activities.
And there is (even more) good news. Per Skalen from Karlstad University gave an example of successful co-production from Swedish health care. The inclusion of patients in designing the treatment increases clinical outcomes. So co-production to the innovation forefront!