Pictured above: Kalvin tér Metro station, Budapest, October 15, 2015.
Day Two of the conference on Public Service Innovation and the Delivery of Effective Public Services at the National University of Public Service in Budapest (15-16 Oct 2015).
In the Plenary on Oct 15 Stephen Osborne provided an insightful conceptual framework for the study of co-production in Service Delivery (see my last post). In the Paper Sessions throughout the conference several researchers presented concrete empirical evidence on what co-production actually is and what its antecedents are.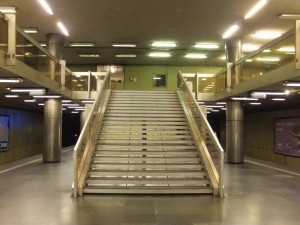 Metro station Nagyvárad tér, where the University is located next to; October 14, 2015.
In their paper Megan LePere-Schloop, Brian N. Williams from the University of Georgia in Athens, GA, and their co-authors are studying co-production of safety and security in the residential campus environment of their university.
It's a quantitative paper. The relevance of the topic requires no long explanation: Since 2013 there have been two dozen campus mass shootings in the US. So the implicit rational behind including students in creating safety and security on the campus, is not to cut costs but to improve effectiveness of service delivery. It is not that easy: In Athens, where UGA is located in, there is an elected sheriff, a chief of policy elected by the local council, and campus police. The resulting overlap of competencies adds a level of complexity.
Using survey data from 1130 undergraduate UGA students Megan and co-authors investigate the determinants of students' role perceptions in co-production. Using (ordered) probit models they find that civic engagement and the perception of hometown police positively impact student's role perception. This suggests that co-production becomes difficult when negative perceptions are transferred to the campus environment.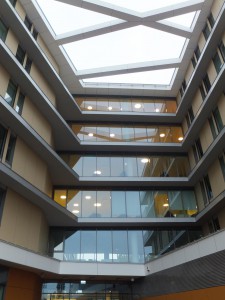 National University of Public Service, October 15, 2015.
Luise Langergaard from Roskilde University in Denmark and her co-author  presented their findings from an innovation project in elderly care in Copenhagen. I like this presentation because I gained helpful insights about the daily life problems and processes in Danish elderly care.
The municipality of Copenhagen initiated a project called Life Quality in Nursing Homes. The intention was to identify best-practices in nursing homes and to spread them across the sector. The project was driven by a shift from the flawed cost-efficiency focused New Public Management approach to a more trust oriented reform that give nursing homes the operational leeway that is required to improve quality of service delivery. So yet another innovation, benchlarning, you name it-project? I don't think so.
The findings from qualitative interviews in 5 municipal nursing homes in Copenhagen suggest that performance improvement can come at almost cost-free. Resident's perception of homeliness and self-determination heavily contributes to their level of satisfaction and thus their well-being. One female resident highlighted in an interview that she wants to be "the host in her home", she just wants to able to invite her family to a cup of tea in the nursing home in a way as she would have done it when she lived on her own. The wish came true easily in this particular case since both the nursing staff and the facility manager supported innovative behavior.
Luise and her co-authors pointed to the changing role of relatives in elderly care in recent years. Relatives became more powerful and are more engaged in taking decisions-nowadays there are more conflicts with relatives which poses an obstacle to innovation and meaningful co-production. Or in the words on George Tsebelis: As the number of potential vetoplayers increases a change in the status quo become less likely.